Day 1: 20th Edition of the ERUS meeting off to flying start
Posted on

September 13, 2023

in News
With a visit from the President of Tuscany, Mr. Eugenio Giani, ERUS23 was formally opened by the organisers and EAU Secretary General Prof. Arnulf Stenzl. The EAU Robotic Urology Section's 20th Annual Meeting is taking place in Florence, Italy on 13-15 September.
Joining Mr. Giani and Prof. Stenzl on stage were the head of the local organising committee Prof. Andrea Minervini and ERUS Chairman Prof. Breda. Prof. Minervini was proud to bring this latest incarnation of the ERUS meeting to his hometown, with all of the high-tech audiovisual efforts that that entails:
"We had great assistance from the entire ERUS family. I want to thank the hospital and all its staff for the extra effort required to make ERUS23 a success. I would also like to thank President Giani, the regional authorities do their best to provide us with the best technology available and ultimately benefit Tuscany's patients."
President Giani in turn welcomed the urologist visitors (from over 50 countries!) to Florence: "This is also an important event for Tuscany! This is an occasion to communicate with people from every part of the world within professional robotic surgery. Prof. Minervini and his department are an example, of the kind of leading medical centres we have in our region, with new technological developments and better healthcare for our citizens. I hope that beyond these three educational days, the participants can visit Florence and wider Tuscany."
EAU Secretary General Prof. Stenzl was proud of the longevity and strength of ERUS as an EAU Section, and their efforts to spread the uptake of robotics for the benefit of Europe's urology patients. "Europe can be considered a leading part of the world when it comes to the introduction of robotics in urology. Congratulations to ERUS for playing its part!"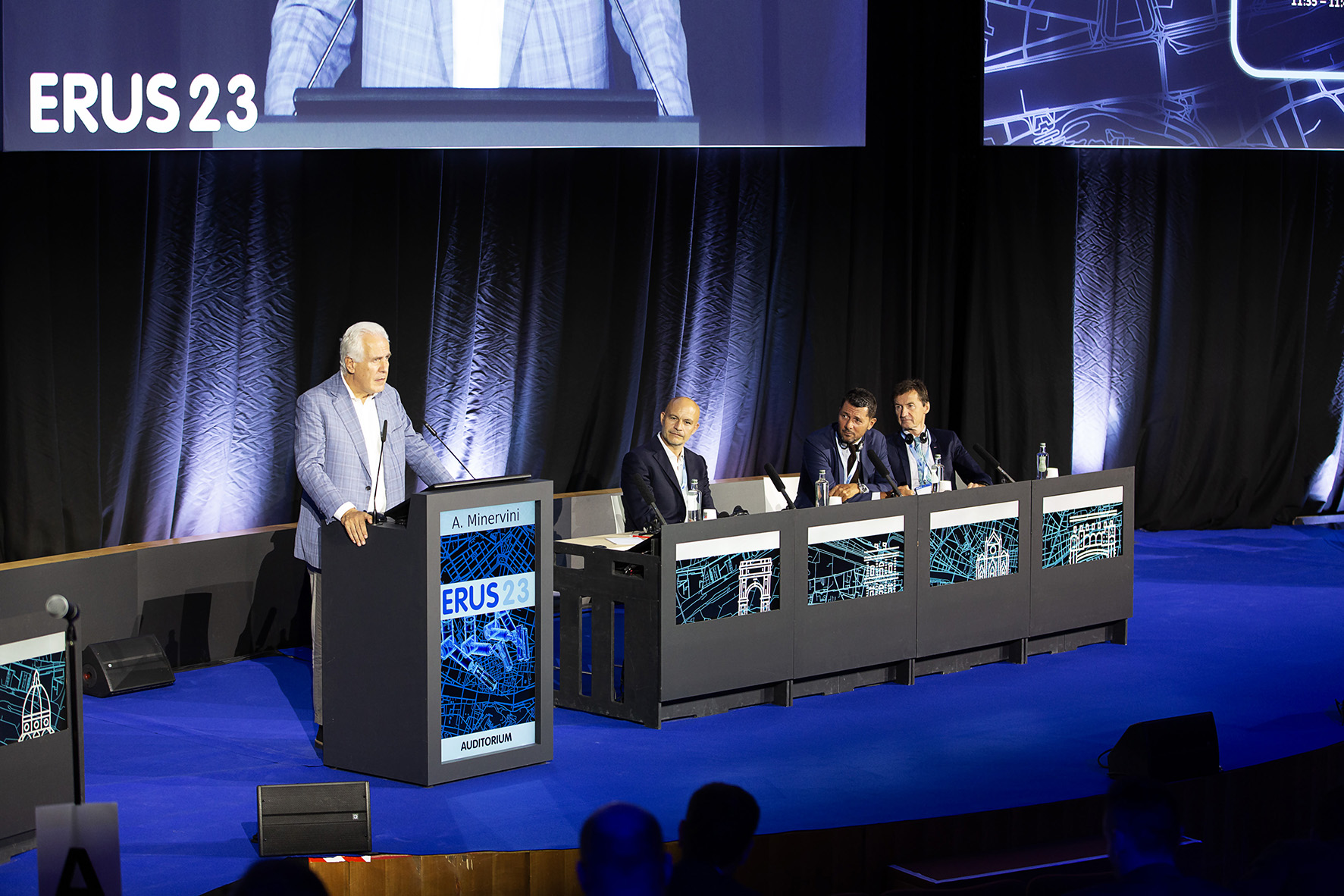 Tuscan President Mr. Giani, Profs. Minervini, Breda and Stenzl.
Before the first day of ERUS23 was even halfway done, the second of three Live Surgery sessions had already started, bringing a large variety of procedures and systems to the 800 participants who are expected in Florence. There was a lot of interest in the new systems that are showing up in leading urology centres across the continent in the past two years. Live surgery will continue on days two and three, forming the backbone of the ERUS23 scientific programme.
Nurses' programme and more
Day 1 of ERUS23 was particularly busy, offering not only the main scientific programme but also two ESU Courses (nerve-sparing RARP and robotic partial nephrectomy), and a full-day ERUS-EAUN Nursing Day which included hands-on training in the afternoon.
After the last edition at ERUS21 in Düsseldorf, the European Assoctiation of Urology Nurses once again offered a special programme for nurses who want to familiarise themselves with working conditions in a robotic urology department. Read more >