New systems, in a live setting and upcoming
Posted on

October 27, 2022

in News
The second day of ERUS22, like the first, heavily featured live surgery. This was a very conscious decision by the meeting organisers, to have more robot-related lectures at the Annual EAU Congress, and have as many and diverse a set of live surgical procedures at the annual section meeting in Barcelona.
In the morning's live surgery session, two procedures were performed using the Medtronic Hugo system, one in Barcelona by ERUS Chairman Dr. Alberto Breda and one remotely in Aalst by Dr. Ruben De Groote. This was a good opportunity for the audience to see how these robots, which are slowly entering surgical centres across Europe, perform in experienced hands.
Asst. Prof. Nina Harke Dr. Carl Wijburg moderated and commented on Dr. Breda's Hugo-assisted partial nephrectomy, asking about both technique and experiences on the new system. Dr. Breda pointed out the particularities of table and patient positioning, and noted that there had been no notable difficulties in his centre for the table-side assistant to adapt to the system's longer arms.
Significantly, Dr. Breda shared with the audience that from these first months of use, the hospital estimated that procedures were some 20-25% cheaper to perform than on other systems. He cautioned that these were preliminary findings and it of course depended on how billing and purchase price are factored in. Dr. Wijburg noted that, from the audience's point of view, it was hardly noticeable that a completely new robotic system was being demonstrated, which both concluded was a good sign.
First experiences and adoption potential
After the session concluded, Dr. Wijburg reflected on the robotic urology community's first experiences with the Hugo system and how wider adoption could proceed.
"The 20% figure is a careful first estimate. A lot depends on reusable instruments, the number of uses after purchase can differ. There are also hidden costs in reusing. It's difficult to estimate in the long term if that figure will hold."
"At the moment, some features and scopes are not yet available, and there is still a lot of ongoing development as the systems are being put to use, just like in the early years of prior systems. We don't have the complete picture yet. I do know that colleagues are very interested to get some hands-on experience and see the new system being used in urology cases."
Speaking about the potential for a wider roll-out of the new systems, and how that might look, Dr. Wijburg speculated that if centres are interested in kidney-only or prostate-only approaches, the Hugo might already be an interesting option while the system develops into a more "universal" platform. For ERUS and its meetings, it's certainly a novelty after eighteen previous editions that there are suddenly new systems in the live surgery sessions, said Wijburg.
Yesterday, Dr. Breda counted up to 30 different systems in development. Dr. Wijburg thinks the increased competition has big advantages. "While of course Intuitive did a great job developing its systems and working with urologists to keep improving, it can only be a good thing to break the monopoly. It drives prices down and pushes innovation."
"One thing we do have to bear in mind is that if prices go down so far that everyone has a robot and uses it for a large variety of procedures, then you lose the high case load and quality and training that goes with that. There are a lot of things that will change when more systems come to market, some we don't even know about like long-term ergonomics of open versus closed consoles."
Single-port revolution?
Before the second round of live surgery sessions started in the afternoon, Asst. Prof. Simone Crivellaro, Director of Minimally Invasive Urology at the University of Illinois (Chicago) shared his experiences with the da Vinci SP, a single-port system that isn't available in Europe yet. There are currently around 120 systems in use in the United States. Newer generations with stronger grips and new imaging techniques are almost ready for introduction.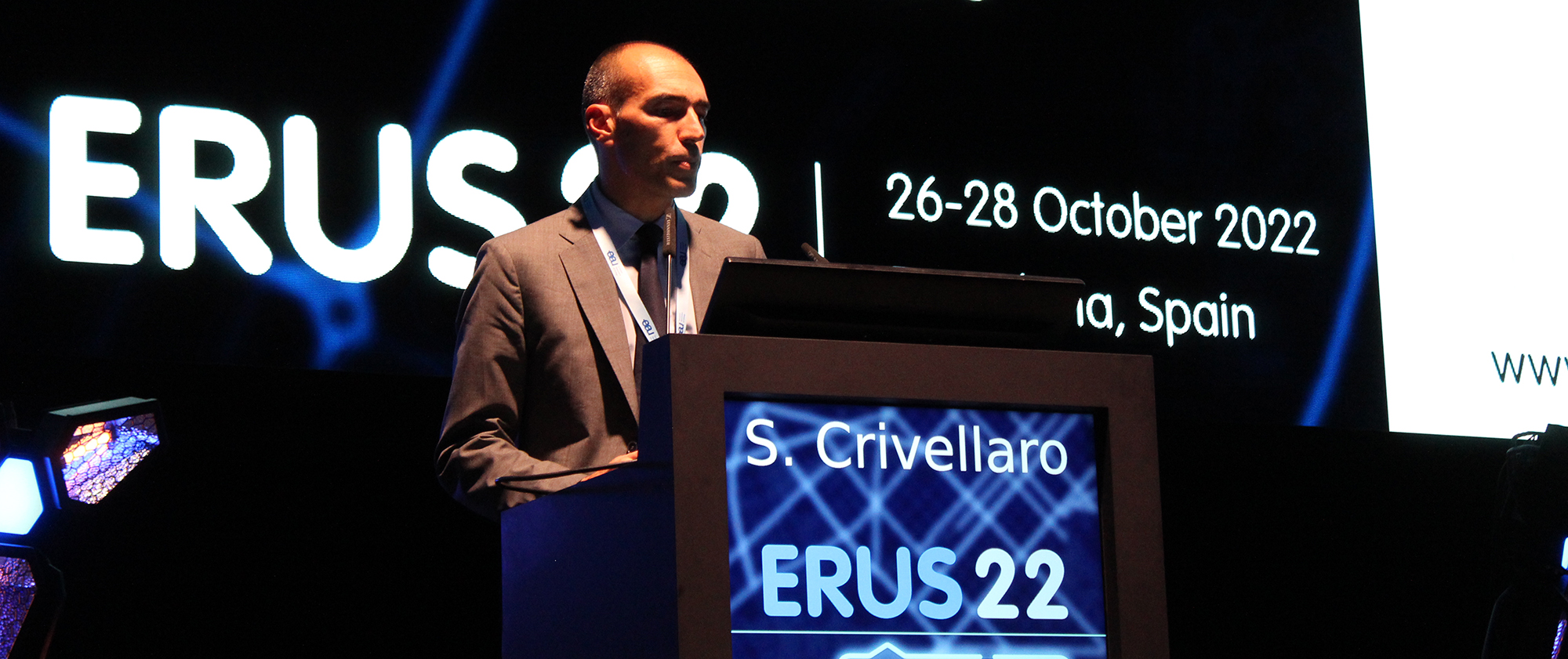 Dr. Crivellaro was extremely enthusiastic about the opportunities that the "minimised minimally-invasive" system brought surgeons. Not just in terms of quicker patient recovery but also in completely new approaches to organs.
"The system's greatest benefit is its small footprint: it is designed to work in small spaces, which means we can stay away from the peritoneal cavity. Extraperitoneal, transvesical and retroperitoneal approaches and even a completely new approach for radical prostatectomy: anterior. The platform is opening a lot of new approaches and I think it's a big shift for surgeons."
"Advantages of decreased invasiveness are not just less tissue damage, but better pain control, shorter length of hospital stay and faster recovery. I think the SP is here to stay, its rationale makes complete sense. Decreased invasiveness but without jeopardizing the oncological outcome."
Dr. Breda, back from the OR, asked the audience how many people would use the SP if they had permission from their hospitals. Around 20% raised their hands. Dr. Breda pointed out that the SP is certainly good for precise and small procedures, but that even the most experienced surgeons struggle a bit with a radical cystectomy. "Instead of pushing the envelope and using the SP for everything, it makes sense to have several systems for different needs. But that's when cost becomes a factor."
The latest estimate is that the SP will be cleared for introduction in Europe in the second half of 2023.